The poultry sector has been observing numerous high-end technological developments like Robotics, Automation, IoT, and Blockchain in the pre or post chicken cycle and even in feeding and environmental control. These new technology developments aim to improve productivity and welfare in the poultry sector.
But, our journey started when we took the challenge to solve the fundamental problem of raking, i.e. efficient raking with minimum efforts. The solution for litter raking, which was looking so simple, turned out to be very challenging. Team PakshiMitra's decades of experience in designing critical equipment for Nuclear & Heavy engineering helped us deliver quality and reliable products. With over two years of continuous efforts and nine prototypes, we successfully launched our first product, ' PakshiMitra- HERO', an award-winning design.
We identified significant opportunities in the poultry supply chain, i.e. Chick to Chicken Cycle. These opportunities were mostly neglected during the last 5-6 decades, specifically in countries like India. And with the help of IoT and automation, we aim to improve animal welfare and productivity in poultry farming affordably.
Our main focus is on poultry farm waste management, and we have developed 4 stage plan to make poultry farming sustainable and NET ZERO. Also, we are working on creating automation & IoT-based solutions for brooding management and handling, focusing on #welfarengineering.
All About #welfarengineering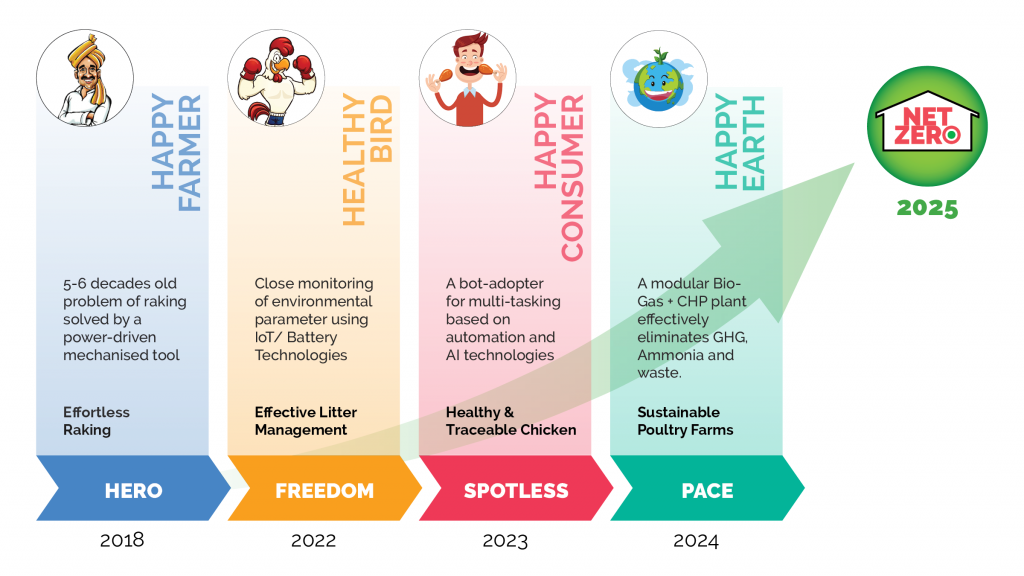 MISSION
Focus on #welfarengineering to improve animal welfare and productivity of commercial poultry farms by providing innovative and smart solutions.
VISION
To make poultry farming healthier and more sustainable.
Our Story
6 years of #welfarengineering and counting…